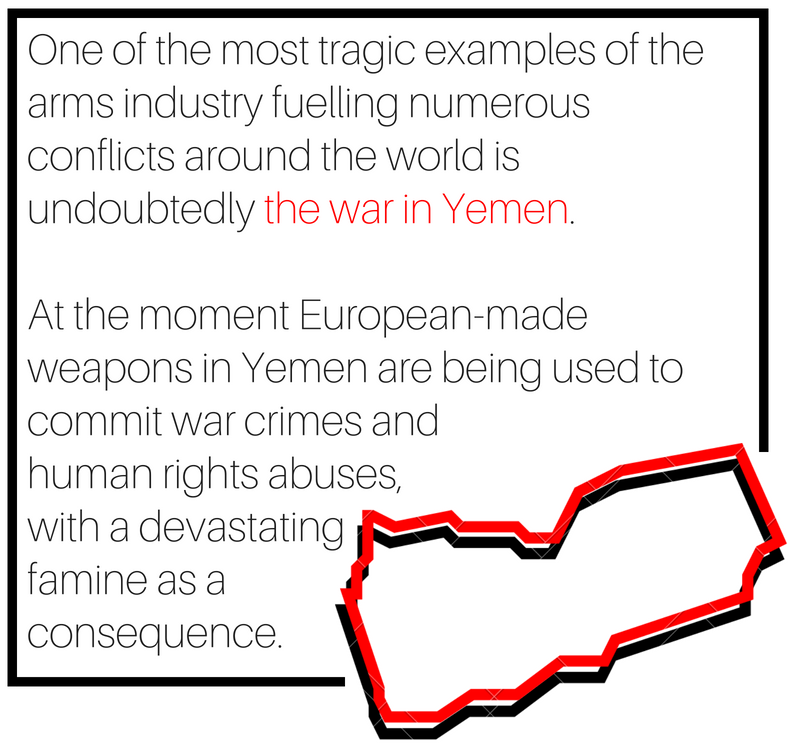 What's the problem?
Ours is increasingly a world of war, violence and military activity. There are at least thirty armed conflicts each year around the world, not counting the many places with high levels of (militarized) violence. This violence has one thing in common: weapons and military products of all kinds.
Around the world more than 20 million soldiers are armed with enormous arsenals of a distressing variety of weapons. Nuclear weapons, cluster bombs and anti-personnel mines remain particularly worrying, but recent years have also seen an increase in military drones, robots, and other autonomous weapons. The business model of the arms industry is rooted in arming participants in armed conflicts; and so civil society is armed with weapons of all kinds too – conventional and modern, heavy and light.
The world's massive and growing arsenal makes conflicts more violent, and war more feasible. In fact, today, more than 65 million forcibly displaced people are fleeing from war and insecurity.
What does this mean?
The militarization of international-relations is a growing reality: world arms exports exceed $30 billion annually, production of the 100 largest arms companies in the world exceed $400 billion each year, and military spending is $1.7 trillion in 2017. These figures keep growing, particularly since NATO began pressing its members to allocate 2% of their GDP to military spending.
This atmosphere and the enormous profits at stake feed this vicious cycle of militarization. We are continuously told of new or existing threats to our security, playing on and building our fears. We hear solutions to these apparent threats based on military logic (not based on the culture of peace, dialogue and human security).
Meanwhile, peoples right (and need!) to live a peaceful life are relegated to the background.
What influence does finance have in all of this?
Financial firms are one of the fundamental pillars of the military industry, with arms manufacturers and others depending on stock markets, debt markets, bank funding and other financial instruments.
These institutions provide investment funds for arms companies, they underwrite bond issuances so that the arms industry can obtain financing, bank loans are granted directly to military companies, arms exports are financed and the shareholding in weapons companies further allows banks to speculate and/or have control over their activities.
Civil society organizations have coined the term 'Banca Armada' – or 'armed banking' – to refer to the financial institutions that enable the arms industry to operate. 'Armed Banks' make it easy and profitable for the military industry to receive investments and loans with their own funds and the money of their clients.

Curious to see how your own savings and banks are involved?
All this makes it impossible to slow or reverse the proliferation of weapons we are seeing today, and the violence and human rights violations that come with them.
What does this mean for you?
It is very possible that your bank is investing in arms and you are not even aware of it. By switching to alternative, transparent and ethical financial providers, our financial decisions can have a hand in putting a stop to funding this military build-up. But consumer action alone cannot change the world. We also need to elect politicians willing and able to change finance and to move away from war and towards peace.
What's the best way forward?
TRANSPARENCY

.

Citizens should easily access information and data about the financial sector and its evolution – including the actual impact of regulation. Financial firms should disclose what they are financing and how much they are charging.

ACCOUNTABLE FIRMS

.

Financial firms should be accountable to their stakeholders, from customers and employees to local citizens. For example, asset managers would engage with savers; banks would include more stakeholders on their boards; and the banking sector would include more stakeholder and public banks and institutions.
INVESTING NOT BETTING. More useful investment for socially and ecologically sustainable activities; less 'casino' financing for short-term, unproductive and speculative activities. More relationship-based finance.
Bite the bullet and stand up for demilitarizing finance.
Related Campaigns
Sources
Also check out
Infographics on the main Spanish banks' investments in arms companies between 2011 and 2016
Related